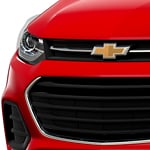 Don't wait another moment before you take a look at everything that the Chevy Trax has to offer you. It is known as the vehicle for explorers as it has a lot of different seat configurations that make it easier for you to store the items that you need to store until later use.
The Chevy Trax is also very modern in the sense that it has the on-board technologies you need to get around from place to place. You can enjoy your very own built-in Wi-Fi hotspot and of course hook up your smartphone (Apple or Android) and play what you want from that phone via the touchscreen on the front of the vehicle.
All in all, the Chevy Trax is one of those vehicles that you just know is worth every dollar that you put into it. There is practically no competition when it comes to getting a smooth ride with a beautiful interior.